The 2014 International Conference on "Animal Liberation, Animal Rights, and Equal Ecological Rights: Dialogues between Eastern and Western Philosophies and Religions"
Submitted by lcaweiabc on Fri, 2014/05/16 - 14:44
The 2014 International Conference on "Animal Liberation, Animal Rights, and Equal Ecological Rights: Dialogues between Eastern and Western Philosophies and Religions" organized by Department of Religious Studies, Hsuan Chuang University, Life Conservationist Association and Hongshi Buddhist Cultural and Educational Foundation was held on 26th&27th of April in Hsuan Chuang University. There are approximately 520 participants from Malaysia, Korea, Hong Kong, Japan and many other countries.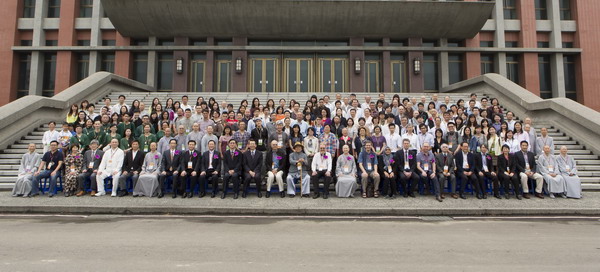 The open ceremony started at 8:30am of 26th April, followed by two keynote speeches which were presented by Professor Peter Singer (Ira W. DeCamp Professor of Bioethics, University Center for Human Values, Princeton University) and Professor Tom Regan (Emeritus Professor of Philosophy, Department of Philosophy and Religious Studies, North Carolina State University).
Professor Peter Singer's speech entitled 'Animal Liberation: Past, Present and Future' is about the progression of western mainstream thoughts. The speech included the Christian theology of God endowed human the right to dominate everything in the past, and the theory of the equality between mankind and beasts recently to illuminate the importance of animal liberation in centuries and to predict the outline of the future.
Professor Tom Regan gave a speech on 'Animal Rights: What They Are, and Why They Matter' by using the comparison between the dreadful 'cat cooking' chef and the 'protection for the livings' theory of biologist Darwin and Sao Paulo as disciples of Jesus to elaborate the importance of protecting the animals and to raise the animal's right.
Professor Jien-ming Jue (President of Huafan University) hosted these two speeches and the participant responded in positive way.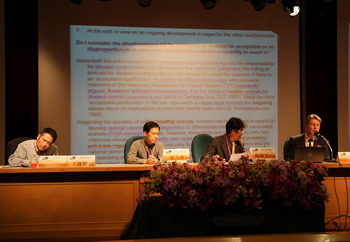 Prof. Joyce D'Silva, Prof. Jason Lih-Seng Yeh, Simon Yang, Prof. Jörg Luy
In the afternoon, Simon Yang (President of Taipei Veterinary Medical Association) hosted a unique lecture for Professor Jorg Luy of Germany, Professor Jason Lih-Seng Yeh from School of Veterinary Medicine, National Taiwan University and Professor Joyce D'Silva., Professor Jorg Luy chew over the Ethical argument of animal elimination for disease controlling to guide the audience towards the topic of observing how the German speaking country lowered their citizen's doubt by Mandatory prerequisite. On the other hand, Professor Jason Lih-Seng Yeh discussed about the problem of stray beings in Taiwan after Rabies. Professor Joyce D'Silva talked about the considerations and practice between massacre for animal epidemic prevention and health of mankind.
There were four other sessions and 11 thesis was announced after that.
As for the 2nd day, the third keynote speech is held by Founder of the International Network of Engaged Buddhists Mr. Sulak Sivaraksa, its title was 'Buddhism and Environmental Movement in Thailand' which is about how the impact of fast growing economic in Thailand alters environment and how a group of eco-friendly monk was involved in environmental protection.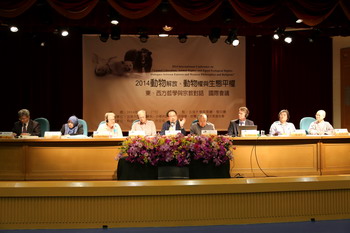 I-feng Yen, Prof. Azizan Baharuddin, Prof. Tom Regan, Prof. Peter Singer, Prof. Sechin Yeong-shyang Chien, Prof. Sulak Sivaraksa, Prof. Jorg Luy, Prof.Kurtis Jai-chyi Pei, and Chao-hwei Shih
Another six sessions of speeches, 16 thesis were announced and a roundtable discussion led by Peter Singer, Tom Regan, Sulak Sivaraksa, Jorg Luy, Azizan Baharuddin, I-feng Yen, Kurtis Jai-chyi Pei, Chao-hwei Shih discussed the vaccination policy for animal protection and zoonotic diseases, the participants answered with enthusiasm.
The ending ceremony commenced at 6pm 27th of April and sketched a pleasing full stop.